Job opportunity: Program Coordinator, Europe & Central Asia
Position Description
---
Position Title:         Program Coordinator, Europe & Central Asia         
Office:                      Leonberg, Germany

Reports To:             Regional Director, Europe
Date:                        January, 2020
_________________________________________________________________________
Reports To
The Program Coordinator will report to the Senior Regional Director for Europe & Central Asia
Job Overview
Introduction: PFI exists to serve and support the association in expanding the global community and developing effective and sustainable national ministries. Membership helps insure we maintain standards which are globally recognised and respected.
Our mission is to transform the lives of prisoners, their families, and victims through a global network of ministry partners. Our vision is to break the cycle of crime and restore lives, worldwide, through Jesus's love.
The PF Europe and Central Asia region has 28 member ministries with others interested in joining. Across the region some 8,000 volunteers are part of the ministry. Our members implement a rich diversity of in prison programs in the fields of evangelism, counseling and restorative justice. Beyond the prison walls programs include aftercare, victim support and work with children of prisoners.
For additional information, the following links will be useful:
In addition to the unique programs that each ministry runs, a growing number are also entering into Program Partnerships with PFI. In our region, 7 countries are implementing The Prisoners Journey which presents prisoners with an introduction to Jesus. The course is based on the book of Mark and is a highly structured exploration of the person and teachings of Jesus. It is designed to be repeatable, interactive and volunteer-led small group experience with a full range of adult learning methods.
Sycamore Tree Project Justice and Peace, is a restorative justice programme that increases prisoners' awareness of how crime harms victims, what is needed to make amends, and how to be peacemakers in the future. It consists of eight weekly sessions. In two of them, crime victims come into prison to meet two times with unrelated prisoners (they are not each other's victims and offenders). During the other six sessions, the prisoners watch videos specially developed by PFI in which victims tell their stories and give their perspectives on the topic being discussed that week.
Key features of our region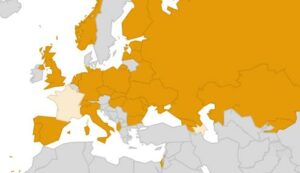 The region is tremendously diverse bringing with it a range of contextual challenges. These include the influence of historical, cultural, social, political, religious and economic differences which are reflected in the various National Ministries we serve. An additional complexity is the diversity of languages which further complicates communication.
Position Focus and Responsibilities
The Program Coordinator will support the Senior Regional Director to provide high quality services to our member National Ministries (NMs) who include program partners[1]. The coordinator will also facilitate promoting and growing the movement across Europe and Central Asia.
To these ends, the Program Coordinator will more specifically:
Coordinate quarterly and annual reviews of PFI's two prison programs: The Prisoner's Journey (TPJ) and Sycamore Tree Project: Justice and Peace (STP). This includes:

Reviewing reports prior to submission to PFI in Washington,
Coordinating onsite reviews and virtual meetings
Participate in virtual meetings
Lead onsite reviews
The Program Coordinator will also facilitate the Senior Regional Director undertake virtual and onsite capacity reviews
Through these reviews, both performance difficulties and best practices are identified. The Program Coordinator will support NMs to overcome weaknesses through coaching, sharing of best practices and mentorship
Support the Regional Director to identify and assess suitable NMs to enter into partnership agreements
Support new program partners in all aspects of program preparation and implementation
Support all aspects of the organisation of regional forums
Other projects and duties as assigned
Required Skills
Socially and culturally intelligent/ aware – able to listen and view behaviour then adapt accordingly/ excellent communication skills
Enjoys to learn and apply this directly to supporting NMs
Digitally proficient and able to appreciate and integrate digital opportunities into improving our service. (Technically adept; comfortable learning new software)
Self motivated and able to work in an autonomous way
Good personal time planning and management
Flexible with time management and travel
Proactive in identifying best practices and seeing how they might be applied
Friendly, professional, and helpful attitude; a self-motivated, coachable team player
Must agree with and support the vision and mission of Prison Fellowship International
Languages
Good spoken and written English and German.
Preference given to those with a high proficiency in Russian which will be used for communications with Belarus; Russian Fed; Ukraine; Kazakhstan; Kyrgyzstan amongst others.
Also beneficial would be one of the following languages: Albanian, Armenian, Bulgarian, Estonian, French, Polish, Portuguese, Spanish, Czech, Italian, Slovakian and Hungarian.
Education
Bachelor's degree or suitable higher education
International experience helpful
Work status
Contract renewable annually
Full or part time position based in Germany
Travel
Other
This job will be of particular interest to young professionals keen on building their experience in cross cultural programming toward our Vision and Mission.
Application
The position is located at:
Heinrich-Längerer-Str. 27
71229 Leonberg, Germany
Please send your CV and covering letter to: Haleigh Tighe, htighe@pfi.org
Application closing date: 20 March 2020
[1] Program Partners implement PFIs prison programs which include: The Prisoner's Journey (TPJ) and Sycamore Tree Project: Justice and Peace (STP), a Restorative Justice project
Christian jobs / Christian job opportunities: Program Coordinator Europe & Central Asia. Restorative Justice, Prison Reform, Biblical group sessions – dicipleship program